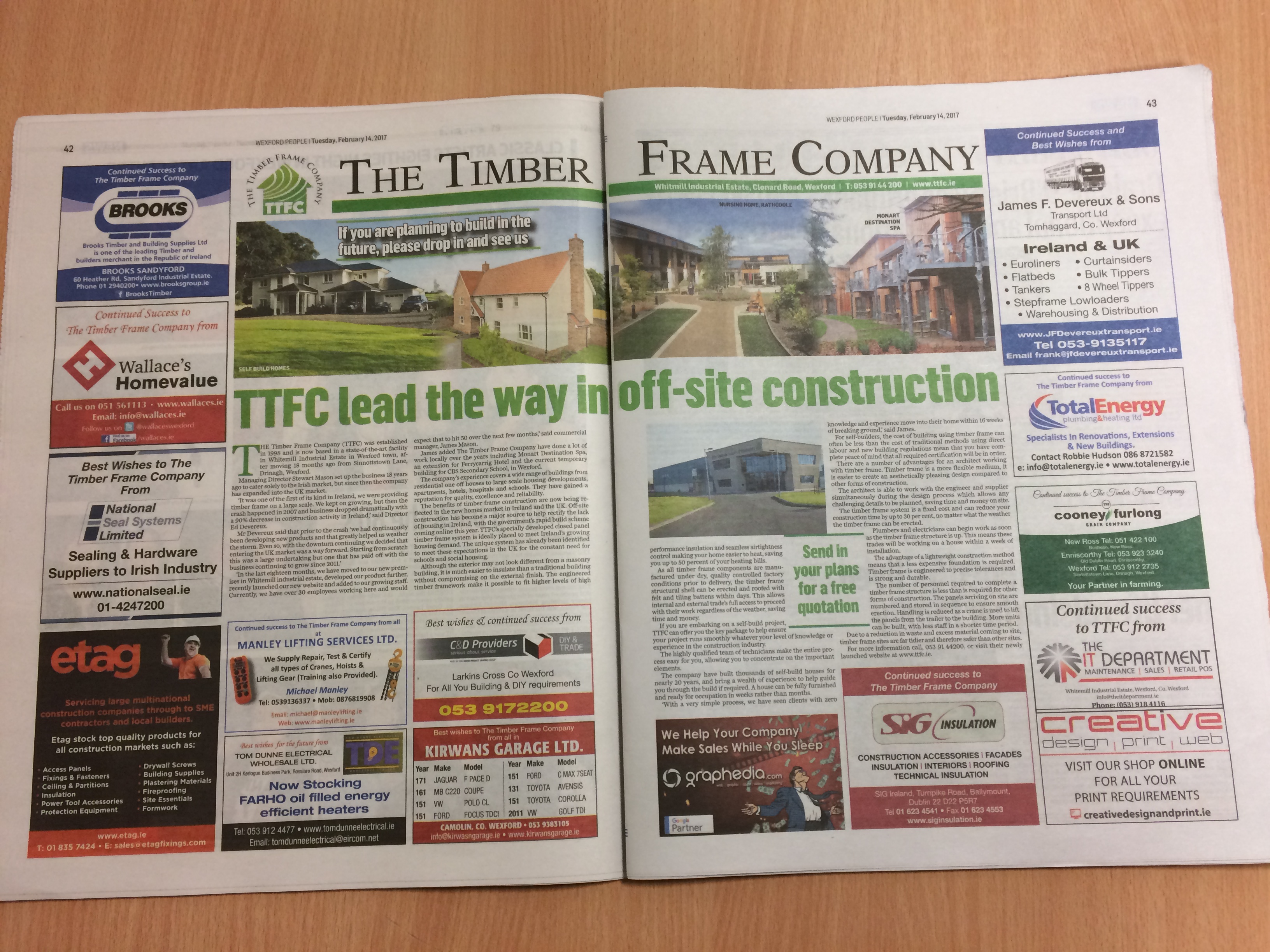 Today we are featured in the people papers in Wexford and Wicklow, but to make sure you all don't miss out this is what was said:
The Timber Frame Company (TTFC) was established in 1998 and is now based in a state-of-the-art facility in Whitemill Industrial Estate in Wexford town, after moving 18 months ago from Sinnottstown Lane, Drinagh, Wexford.
Managing Director Stewart Mason set up the business 18 years ago to cater solely to the Irish market, but since then the company has expanded into the UK market.
'It was one of the first of its kind in Ireland, we were providing timber frame on a large scale. We kept on growing, but then the crash happened in 2007 and business dropped dramatically with a 90% decrease in construction activity in Ireland,' said Director Ed Devereux.
Mr Devereux said that prior to the crash 'we had continuously been developing new products and that greatly helped us weather the storm. Even so, with the downturn continuing we decided that entering the UK market was a way forward. Starting from scratch this was a large undertaking but one that has paid off with the business continuing to grow since 2011.'
'In the last eighteen months, we have moved to our new premises in Whitemill industrial estate, developed our product further, recently launched our new website and added to our growing staff. Currently, we have over 30 employees working here and would expect that to hit 50 over the next few months,' said commercial manager, James Mason.
James added The Timber Frame Company have done a lot of work locally over the years including Monart Destination Spa, an extension for Ferrycarrig Hotel and the current temporary building for CBS Secondary School, in Wexford.
The company's experience covers a wide range of buildings from residential one off houses to large scale housing developments, apartments, hotels, hospitals and schools. They have gained a reputation for quality, excellence and reliability.
The benefits of timber frame construction are now being reflected in the new homes market in Ireland and the UK. Off-site construction has become a major source to help rectify the lack of housing in Ireland, with the government's rapid build scheme coming online this year. TTFC's specially developed closed panel timber frame system is ideally placed to meet Ireland's growing housing demand. The unique system has already been identified to meet these expectations in the UK for the constant need for schools and social housing.
Although the exterior may not look different from a masonry building, it is much easier to insulate than a traditional building without compromising on the external finish. The engineered timber framework make it possible to fit higher levels of high performance insulation and seamless airtightness control making your home easier to heat, saving you up to 50 percent of your heating bills.
As all timber frame components are manufactured under dry, quality controlled factory conditions prior to delivery, the timber frame structural shell can be erected and roofed with felt and tiling battens within days. This allows internal and external trade's full access to proceed with their work regardless of the weather, saving time and money.
If you are embarking on a self-build project, TTFC can offer you the key package to help ensure your project runs smoothly whatever your level of knowledge or experience in the construction industry.
The highly qualified team of technicians make the entire process easy for you, allowing you to concentrate on the important elements.
The company have built thousands of self-build houses for nearly 20 years, and bring a wealth of experience to help guide you through the build if required. A house can be fully furnished and ready for occupation in weeks rather than months.
'With a very simple process, we have seen clients with zero knowledge and experience move into their home within 16 weeks of breaking ground,' said James.
For self-builders, the cost of building using timber frame can often be less than the cost of traditional methods using direct labour and new building regulations mean that you have complete peace of mind that all required certification will be in order.
There are a number of advantages for an architect working with timber frame. Timber frame is a more flexible medium, it is easier to create an aesthetically pleasing design compared to other forms of construction.
The architect is able to work with the engineer and supplier simultaneously during the design process which allows any challenging details to be planned, saving time and money on site.
The timber frame system is a fixed cost and can reduce your construction time by up to 30 per cent, no matter what the weather the timber frame can be erected.
Plumbers and electricians can begin work as soon as the timber frame structure is up. This means these trades will be working on a house within a week of installation.
The advantage of a lightweight construction method means that a less expensive foundation is required. Timber frame is engineered to precise tolerances and is strong and durable.
The number of personnel required to complete a timber frame structure is less than is required for other forms of construction. The panels arriving on site are numbered and stored in sequence to ensure smooth erection. Handling is reduced as a crane is used to lift the panels from the trailer to the building. More units can be built, with less staff in a shorter time period.
Due to a reduction in waste and excess material coming to site, timber frame sites are far tidier and therefore safer than other sites.
For more information call, 053 91 44200, or visit their newly launched website at www.ttfc.ie.